So, the last time we saw
Without A Trace
's Danny (Enrique Murciano) and Martin (Eric Close) they were being shot at while driving down the road. The season finale cliffhanger left us all wondering if Danny, Martin or both were going to survive. Shots were fired right into their windshield! Could they survive? Inside TV magazine has the answer.
WARNING: STOP READING NOW IF YOU DON'T WANT TO BE SPOILED. YOU HAVE BEEN WARNED.
According to the August 1-7th edition of Inside TV magazine, both Martin and Danny survive the shootout. The magazine has pictures of both actors working on the streets of New York recently. Martin is a little worse for the wear. He's shown walking with the help of a cane. But Danny seems to have come through the incident unscathed. The magazine also reveals some scoop from actress Poppy Montgomery (Sam). She says not to look for Martin's injured state to cause Sam to go running back to him. "My take on it is my character is still very much in love with [Jack]," she tells the magazine.
END WARNING


Without
A Trace
is not the only Jerry Bruckheimer crime series with some new season scoop. In a recent article from the AP posted on
Netscape
,
Cold Case
's Danny Pino (Det. Scotty Valens) reveals that his character is going to get some more personal story lines.
WARNING: STOP READING NOW IF YOU DON'T WANT TO BE SPOILED. YOU HAVE BEEN WARNED.
According to Pino, the start of the new season finds Valens still questioning his dead fiancee's suicide. He believes it was a homicide. Pino promises that this is "going to be a very baffling year [for Valens]."
Series creator and executive producer Meredith Stiehm says the show's story lines are playing to Pino's strengths. "We've realized there's no limit to his ability, so we've been writing more and more for him."
END OF WARNING.


In other
Cold Case
news, the new issue of TV Guide has more information on Sarah Brown's new character Josie Sutton. According to the August 21-27th edition of TV Guide, Josie is a character with baggage. Sarah Brown tells the magazine that her character's father died in the line of duty when Josie was a child. Brown reveals that there is more baggage to Josie, but we'll have to stay tuned to find out. According to
the Futon Critic
, Lilly (Kathryn Morris) will mentor Josie when she comes aboard. It seems that Brown is adjusting nicely to the
Cold Case
set from new pictures of the cast and crew filming a scene in West Hollywood for season 3: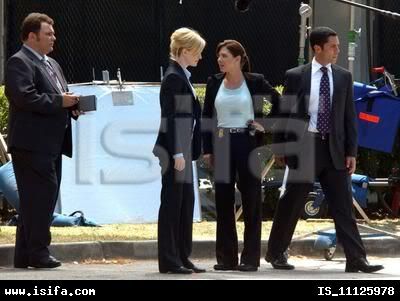 From left to right: Jeremy Ratchford (Det. Vera), Kathryn Morris (Det. Rush),
Sarah Brown
(Det. Josie Sutton), and Danny Pino (Det. Valens)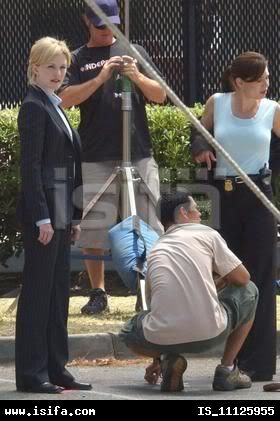 Kathryn Morris and
Sarah Brown




QUICK CUTS


*Director/actor Kevin Smith (

Clerks, Mallrats, Chasing Amy, Jersey Girl

) is set to guest star on

Veronica Mars

' new season. According to zap2it, Smith will play a convenience store clerk, ironically, who meets Veronica (Kristen Bell) during one of her investigations. His episode is scheduled to air October 5th.

*If you missed any or all of

Lost

last season or in reruns this summer or if you just want a refresher, you'll have a chance to catch up before the premiere. ABC will air a one hour special on September 21st as a lead-in to the show's second season premiere according to the Futon Critic. ABC isn't releasing any details yet, but the special is understood to be a recap show.

*Janeane Garofalo will guest star in a three-episode arc of

The West Wing

. She'll play a controversial media strategist hired by Matt Santos' (Jimmy Smits) campaign as the new director of communications. Her first appearance is set for the October 2nd episode.

*And finally, CBS landed another first place finish in the Nielsen race with an average 7.3 million viewers according to zap2it. The Eye network had seven of the top ten shows last week led by most watched show

CSI.

NBC and ABC battled for second, but ABC had more total viewers. For the full list of the top 20 shows, visit usatoday.com.

That's all for today. Be sure to tune in tomorrow as we go

Over There
and under the covers with the soapy side of procedurals. And as always, all the latest TV news.