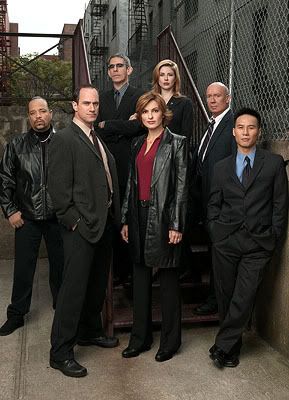 Hey readers! I'm Trublu, the newest edition to the PassTheRemote writing team. I'm very happy to present this preview for Law & Order: SVU as my first post, with hopefully many more to come!
The following contains some spoilers for season eight of "SVU". Viewer discretion is advised.
*Doink Doink*
In the criminal justice system, sexually based offenses are considered especially heinous. In New York City, the dedicated detectives who investigate these vicious felonies are members of an elite squad known as the Special Victims Unit. These are their stories.
*Doink Doink*
That familiar voice will signal the opening sequence for the most sucessful "Law & Order" to date. Tonight is the beginning of a new "Law & Order" franchise season, and news about the season premier of "Law & Order: SVU" gives fans something to look forward to seeing. A lacking seventh season left us longing for the old season one teamwork and humor. This from
TV.com
was the first information publicized on the episode:

Benson goes undercover to investigate the rape of a federal informant.

Guest Star: Kristen Bush, Marcia Gay Harden

The season premier of the eighth season is the most important premier in the entire series to date. This season, writers must deal with the absence of Mariska Hargitay as she takes her six episode maternity leave after the first two episodes. Also reappearing from last season, unresolved tensions between Stabler and Benson and the botched "Let's send Olivia to Computer Crimes for two episodes" move made by the writers. (According to
The Futon Critic
, Olivia Benson is headed back to computer crimes to cover Mariska's maternity leave.)
Executive Producer Neal Baer says:

"The intensity continues with new episodes that explore both their characters: the audience will discover a secret about Benson's personal life that may shatter her, and Stabler will confront a problem he never expected." He added, "After some turmoil in Benson and Stabler's relationship last season, they will come to depend on each other more than they ever have in the past.""

Mariska Hargitay also
comments
on the new season:

While last season it was the highly wired Meloni who loses it all the time, in season seven - on air now - it's Benson's turn. "He gets it back together and then I start to unravel," she says. Benson, it seems like Hargitay, wants to be a mother.

"They've set up this arc, so that in the show I've just finished, which features Benson and a girl, it was Benson as a mother. I've been so obsessed with muscling my way through these crimes and trying like a one-man show to change the world, but now I'm wondering: What am I doing with my life? Where is my life going? Am I ever going to be a mother? Can I be a mother? Am I too violent? She has so many questions, which I think is so interesting about the character, and of her being the product of rape."

The seventh season premier featured an undercover Elliot Stabler, which was the beginning of a long road of emotional and anger management issues. Now, with the eighth premier set to feature the same situation for Olivia, one can only wonder if this will be the beginning of the problems for Olivia Benson.
The episode also features Marcia Gay Harden, whose undercover FBI agent character (Det. Dana Lewis, aka Star Morrison) was featured in season seven's "Raw".
Set to appear this season are Leslie Caron ("Le Divorce"), Brian Dennehy ("The 4400", "The West Wing"), Robert Vaughn ("Hustle"), Gregory Harrison ("Joey"), Betty Buckley (SVU episode "Manipulated" [7.15]), Deborah Raffin ("7
th
Heaven") and Paget Brewster ("Huff").
The most notable guest appearance this season will be made by comedian and Labor Day telethon hose Jerry Lewis, who will play Det. John Munch's uncle and a murder suspect.
Over the summer, the cast was just as busy, their shooting hiatus being used for numerous appearances.
Most notably, Mariska Hargitay gave birth to a 10lb, 9oz son on June 28th, a week after her due date. Mother and son, named August Miklos Friedrich Hermann, have been doing well, and appeared in the July 31st issue of TV Guide, along with Mariska's husband, Peter.
Mariska's August 9th appearance on
"The Tonight Show with Jay Leno"
was canceled last minute due to her father (Former Mr. Universe Mickey Hargitay) falling ill.
Mariska finally picked up an Emmy win for "Best Actress in a Drama Series" for her work in "911". It was the third nomination for Mariska, and her first win.
Closing out the summer, Mariska will help millions around the world commemorate the fifth anniversary of the September 11th attacks on the United States by narrating
America Rebuilds II
, the second installment in a planned trilogy.
Christopher Meloni was also nominated for an Emmy, in the "Best Actor in a Drama Series", but was beaten by "24"s Kiefer Sutherland.
Diane Neal and Richard Belzer both appeared at the 47th Television Festival held in Monte Carlo, Monaco, from June 30th to July 1st. They were joined by series creator Dick Wolf and "Law & Order" newcomers Milena Govich and Alana de la Garza.
Diane also tried her hand at directing this summer, her play "Modern Missionary" winning the award for
"Outstanding Play"
at the 2006 New York International Film Festival.
Diane was spotted waitressing at Sapa restaurant, serving Southeast Asian cuisine to benefit Project ALS.

Expect five-star service tonight at Sapa, when Julianna Margulies, Bryant Gumbel, "SNL's" Seth Myers, Ally Sheedy and "Law & Order's" Diane Neal will dish out chef Patricia Yeo's Southeast Asian cuisine to diners to benefit Project ALS. (Time sensitive article was replaced at NYDailyNews.com)

Diane is scheduled to play in the Autism Speaks charity softball game on September 16th. She will once again be joined by Milena Govich and Alana de la Garza.
Ice-T is set to host the 2006 Hip Hop Honors show, which will air October 17th at 8PM (EST) on VH1.
Dick Wolf will be honored in 2007 for his television career with a star on the Hollywood Walk of Fame.
This season will see many
cast changes
for the "Law & Order" franchise, with the original entering into it's 18th season on the air, and Criminal Intent its 6th.
On SVU, Connie Nielsen will be joining the cast for a six episode stint as Warrant Officer Dani Beck, to fill the void left by Mariska Hargitay's Benson.